As someone who wants to look fashionable while also protecting my eyes from harmful UV rays, I know the struggle. After researching different high-end options, I kept coming back to the Prada PR 13ZS sunglasses.
Known for their stylish and iconic designs, Prada sunglasses are a popular choice for those looking to make a statement. But beyond just looks, the PR 13ZS model provides meaningful eye protection.
In this review, I'll share my experiences with the Prada PR 13ZS sunglasses. I'll highlight the key features that make them stand out, as well as any potential drawbacks to consider.
My goal is to provide an honest and thorough assessment to help you determine if the PR 13ZS are the right shades for your needs and style. From lens technology to fit and durability, I'll cover it all. Keep reading to learn if these designer sunglasses are worth the investment for eye health and everyday wear.
Prada PR 13ZS sunglasses Review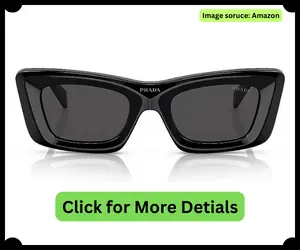 After testing the Prada PR 13ZS sunglasses, here are the 7 standout features I found most beneficial
1. Stylish, Iconic Cat Eye Frame Design:
The cat eye shape is a signature Prada frame style that instantly elevates any look. The angular cut and pointed edges create a retro yet modern aesthetic. As someone who loves cat eye sunglasses for their flattering, feminine shape, the PR 13ZS delivers on style.
2. Lightweight Acetate Frames:
Contrary to many designer sunglasses with heavy, thick frames, the PR 13ZS feature lightweight acetate. The acetate makes them comfortable to wear for long periods without leaving indentations or causing fatigue around the temples.
3. Scratch-Resistant Lenses:
Nothing ruins a good pair of sunglasses quicker than lens scratches. Fortunately, the composite lenses on the PR 13ZS have a protective coating to resist scratches. After tossing them in my bag and being less than gentle, the lenses remained intact and crystal clear.
4. UV Protection Coating:
In addition to scratch resistance, the lenses include a UV protection coating to block 100% of UVAUVB rays. Exposure to UV radiation can lead to eye problems, so having this coating is a major plus. It provides peace of mind that my eyes are shielded.
5. Glare Reduction:
The grey tint lenses are effective at reducing glare. I tested them driving on sunny days and looking at water or snow, and the glare-cutting performance impressed me. I didn't have to squint or experience eyestrain.
6. Stay Put Design:
Between the acetate material, adjustable nose pads, and angled temple tips, the PR 13ZS sunglasses stay firmly in place. Even while running or working out, they don't slide down my nose or budge. The secure fit prevents distractions and discomfort.
7. Trendy Smoked Lens Option:
For a bolder, fashion-forward look, you can select the version with dark grey smoked lenses. This edgier tint complements the cat eye shape. It provides a mysterious vibe without compromising visibility.
In terms of unique features, two things make the PR 13ZS stand out
The angled temple tips allow the arms to follow the natural contour of the head for a custom, tailored fit. This differentiated design prevents slippage.
Prada etched the brand name subtly along the temples. This nod to branding is understated yet recognizable. It's a nice touch that doesn't distract from the iconic silhouette.
Pros:
Flattering cat eye frame compliments various face shapes
Lightweight yet durable acetate construction
Provides full UV protection
Scratch-resistant lenses maintain clarity
Secure fit stays in place during activity
Angled temple tips create custom fit feel
Understated branding retains focus on design
Cons:
Expensive compared to non-designer options
Limited color lens options to choose from
No polarization option available
Arms may be too long for those with smaller heads
Delicate frame requires careful handling
Recommendation:
I recommend the Prada PR 13ZS sunglasses for fashion-forward women seeking designer shades.
The stylish cat eye shape flatters, while the acetate and lens quality offer durability.
If you value UV eye protection and appreciate subtle branded detailing, these sunglasses deliver. The secure fit also makes them suitable for active lifestyles.
While the investment is significant, the craftsmanship and visual appeal make them worth consideration. Just take care to gently handle the delicate acetate frames.
Read Also: Tom Ford CLAUDIA-02 Sunglasses Review
FAQs
How do the Prada PR 13ZS sunglasses fit?
The PR 13ZS sunglasses have an adjustable keyhole nose bridge and angled temple tips to allow you to customize the fit. The shape better conforms to the natural contours of the face. Once adjusted via the nose pads and with the arms extended to the ideal length, the frames feel secure without slipping. The lightweight acetate also prevents indentations. Overall, the tailored fit is excellent.
What face shapes do the PR 13ZS sunglasses complement?
With their cat eye silhouette, the PR 13ZS are ideal for those with oval, round, square, and diamond face shapes. The angular cat eye frames help balance out softer facial features. They also add definition for square faces. Oval and round faces benefit from the width at the temples to add structure. Diamond shapes get flattering coverage at the cheekbones too.
Are the lenses in the PR 13ZS good for driving?
Yes, the composite lenses in the PR 13ZS sunglasses are excellent for driving. They have a grey tint, which provides glare reduction and visual clarity. The UV protection also helps cut eye fatigue on long drives. Between the anti-glare technology and UV blocking, the lenses make driving more comfortable and safer.
How durable are the Prada PR 13ZS sunglasses?
The acetate frame material and scratch-resistant lenses give the PR 13ZS good durability for regular use. However, acetate frames are more delicate than plastic or metal. Dropping them or subjecting them to heavy impact could cause damage. With normal wear though, they will hold up nicely. Just be sure to store them in a protective case and handle them with care to get the most longevity.
Conclusion:
The Prada PR 13ZS deliver on both style and eye protection. The iconic cat eye frame turns heads while the composite lenses shield your eyes. If you seek designer sunglasses that make a statement, these check that box. Yet they don't sacrifice visual clarity or durability like some luxury shades.
Key highlights include the lightweight acetate build, scratch-resistant and UV blocking lenses, and angled tips for a custom fit. While the investment threshold is high, you get quality manufacturing and materials. For those able to splurge on a coveted luxury brand, the PR 13ZS sunglasses satisfy the desire. Not to mention the compliments you'll receive every time you wear them.
Key Takeaways
To recap, here are the key takeaways
Prada's PR 13ZS cat eye sunglasses blend fashion and function
The acetate frame is lightweight and durable while providing a flattering silhouette
Grey composite lenses reduce glare and fully block UVAUVB rays
Angled temple tips and nose pads allow you to customize the fit
Lenses offer scratch resistance and clarity for outdoor activities
Signature Prada branding etched along temples adds subtle designer detail
For the fashionista who prioritizes protecting her eyes in style, the PR 13ZS are a worthy investment. Just be sure to handle them with care and store properly in the included case. Let the PR 13ZS shades take any outfit from simple to stunning in seconds.

David Doyle is a respected authority in the sphere of gaming and reading glasses. He is renowned for his comprehensive reviews that not only evaluate the products but also provide valuable information to consumers.
Doyle's deep knowledge of lens technology, frame design, and ergonomics, combined with his gaming experience, has enabled him to provide informative and reliable insights to a wide array of readers.
Through his writings, Doyle has helped countless readers to choose glasses that enhance their gaming and reading experiences while ensuring maximum comfort and eye health.