Finding the perfect pair of sunglasses that check all the boxes in terms of functionality, comfort and aesthetics can be a challenge. For those seeking premium, high-quality folding sunglasses, read the Persol Po 714SM Folding Sunglasses review is an excellent option to consider.
Persol is renowned for its craftsmanship and use of state-of-the-art technology to create sunglasses that are both fashionable and functional. The 714SM model pays homage to Steve McQueen's iconic style from the 1960s while incorporating modern updates like polarized lenses and flexible arms.
In this review, I will take an in-depth look at the key features, Pros and Cons of the Persol Po 714SM sunglasses.
I will examine the build quality, lens technology, comfort, aesthetics and overall value they provide. Whether you are an avid outdoorsman looking for performance eyewear or a style-conscious consumer seeking a timeless, luxury accessory, the 714SM sunglasses warrant strong consideration.
Read on for a comprehensive Persol Po 714SM Folding Sunglasses review to help you determine if these Persol sunglasses are the right fit for your needs and preferences.
Persol Po 714SM Folding Sunglasses review
The Persol Po 714SM Steve McQueen Folding Sunglasses stand out for their exceptional craftsmanship, use of advanced lens technology and iconic retro-inspired design aesthetic. Here are 7 of the best features that make these sunglasses a worthwhile investment: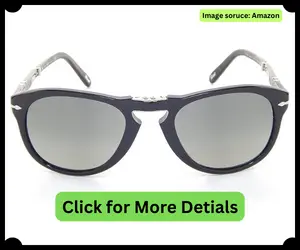 1. Handmade Acetate Frames
The frames are constructed from premium Italian acetate that is handcrafted in Persol's factories. Acetate is lightweight, durable and comfortable. The unique flexibility of acetate allows the arms to contour gently around the head for a secure, customized fit. The acetate frames also feature subtle horn accents at the temples as a nod to Persol's heritage.
2. Polarized Lenses
The lenses utilize advanced polarized technology to filter out glare and harmful UV rays. By only allowing vertically oriented light to pass through, polarized lenses enhance clarity, color perception and comfort in bright sunny conditions. The grey polarized lenses also reduce eye strain and fatigue.
3. Meflecto System
This innovative temple system allows the arms to flex and adapt to the shape of the wearer's head. Internal steel cores provide stability and durability while the flexible external components contour for optimal comfort. The Meflecto system ensures a customized, secure fit.
4. Steve McQueen Styling
The overall design pays homage to the iconic pair of Persol sunglasses worn by Steve McQueen in the 1968 film "The Thomas Crown Affair". The folding bridge and arms capture McQueen's sporty, refined aesthetic.
5. Foldable Design
The foldable bridge and arms allow the sunglasses to fold up into a compact size for safe storage in the included protective case. This portable, space-saving design makes them easy to take anywhere.
6. Comfortable Fit
Several ergonomic features like the adjustable silicone nose pads, flexible acetate material and Meflecto system work together to provide a comfortably snug yet gentle fit. The arms also feature extended tips to sit securely behind the ears.
7. Protective Case Included
The sunglasses come complete with a durable protective case that has a hard shell and velvety inner lining. The case keeps the glasses safe from scratches and damage when not in use.
Unique benefits
In addition to these standout features, the Persol 714SM sunglasses also offer two unique benefits that make them a smart choice:
First, the integrated folding mechanism allows you to easily collapse and store the glasses in a shirt pocket or bag. Competitors' folding sunglasses often use hinges that are prone to loosening over time. The 714SM's seamless folding design is far more durable and stable. No more dealing with wobbly, uneven arms!
Second, the use of crystal-clear polarized grey lenses provides optimal visual clarity and eye protection without distorting natural color perception. Some brands use polarized brown lenses that can give objects an unnatural yellow/amber tone. The grey lenses maintain color accuracy.
Pros:
Overall, the pros of the Persol Po 714SM sunglasses include:
Sophisticated retro-inspired styling
Polarized lenses sharpen visual clarity
Lightweight and durable acetate frame construction
Arms flex and contour to your head shape
Integrated folding design for portability
Comes with protective case
Cons:
Potential cons to consider:
Expensive compared to non-luxury brands
Snug fit may not suit wide heads
No extra lens colors/options available
Minimal Persol branding may not appeal to some
Recommendations of Persol Po 714SM sunglasses:
In terms of recommendations, the Persol Po 714SM sunglasses are optimized for:
Men and women seeking stylish, functional eyewear
Active individuals who value portability and performance
Sunglass aficionados and collectors
Those drawn to refined, mid-century aesthetics
Drivers and athletes needing glare reduction
The Persol brand has an illustrious reputation for producing high-end eyewear crafted to the highest standards in Italy. The Po 714SM sunglasses are designed to Steve McQueen's exacting style preferences with contemporary updates like advanced polarized lenses. For anyone searching for folding sunglasses that blend sophistication, performance and everyday utility, the Po 714SM is an outstanding choice.
FAQs:
Here are answers to some frequently asked questions about the Persol Po 714SM Steve McQueen Folding Sunglasses:
How durable are the folding arms and bridge? Will they loosen over time?
The folding mechanism is built directly into the acetate frame for seamless integration and long-term stability. Internal steel cores reinforce the frame to prevent loosening. The innovative design ensures the folding functionality remains intact for years of use.
Do the lenses provide 100% UV protection?
Yes, the polarized lenses block 100% of UVA and UVB rays to provide complete protection against harmful ultraviolet radiation that can damage eyes and cause conditions like cataracts. The lenses meet European standards for UV protection.
Can the Pontiflex adjustable nose pads be repaired if they break?
The silicone Pontiflex nose pads can be easily replaced if they become damaged. Replacement nose pads can be obtained by contacting Persol customer service. Alternatively, you can visit a local optician to source and install new silicone nose pads suited to the frame size.
How do I clean the Polarized Crystal lenses?
Use the included microfiber cleaning cloth to gently wipe dust or smudges from the lens surface. For deeper cleaning, lens cleaner formulated for polarized lenses can be applied to the cloth and used to clean. Never use paper products or abrasive cloths to avoid scratching. Avoid spraying cleaners directly on the lens.
Are there other color options available?
A: Persol only produces the 714SM model in the black and grey colorway. However, other Persol folding sunglasses like the 714 and 649 models are available in an array of frame and lens colors like the iconic Havana brown or translucent blue.
What is Persol's warranty policy?
A: Persol eyewear is guaranteed for up to 2 years against manufacturing defects. This does not include accidental damage. Contact Persol customer service regarding any warranty issues. Be sure to register your sunglasses online to activate the warranty.
Do the sunglasses come with an authentication certificate?
Yes, an official Persol authentication certificate is included in the box to verify the sunglasses' authenticity. The certificate features the model numbers and frame details.
Can prescription lenses be installed?
Yes, the Persol Po 714SM can accommodate prescription lenses. Lenses must be fitted by a professional optician. Persol can also provide install prescription lenses for an additional fee. Check if your vision insurance includes allowances for prescription sunglasses.
What is the recommended age range for these sunglasses?
The classic styling and medium size make these unisex sunglasses suitable for adults of all ages. However, the snug fit may not be ideal for younger teens. Recommended for ages 16+.
Conclusion on Persol Po 714SM Folding Sunglasses review
The Persol Po 714SM Steve McQueen Folding Sunglasses live up to their reputation as superbly crafted, high-performance eyewear. The Italian acetate frames offer featherweight comfort and durability while iconic detailing provides vintage sophistication.
Advanced polarized crystal lenses shield your eyes from harsh glare and UV radiation while ensuring colors appear natural and distortion-free. Clever ergonomic touches like the Meflecto flexible arms and Pontiflex nose pads allow the sunglasses to contour to your head for a secure, personalized fit.
Ultimately, the integrated folding functionality sets these sunglasses apart, allowing you to easily collapse them to store in a pocket or bag. No more being confined to a bulky sunglass case! The folding design significantly enhances portability and protection.
For those seeking out premium folding sunglasses that merge timeless style, optical purity and carrying convenience, the Persol Po 714SM is an excellent option. While the investment may seem steep, the quality craftsmanship and durability ensure you'll be able to wear these sunglasses for years to come.
Give your eyes the protection and style upgrade they deserve. Choose classic cool with the Persol Po 714SM Steve McQueen Folding Sunglasses.
Read More Reviews:

David Doyle is a respected authority in the sphere of gaming and reading glasses. He is renowned for his comprehensive reviews that not only evaluate the products but also provide valuable information to consumers.
Doyle's deep knowledge of lens technology, frame design, and ergonomics, combined with his gaming experience, has enabled him to provide informative and reliable insights to a wide array of readers.
Through his writings, Doyle has helped countless readers to choose glasses that enhance their gaming and reading experiences while ensuring maximum comfort and eye health.