As summer approaches, many people are looking for sunglasses that will not only look great but also shield their eyes from harmful UV rays. An excellent option to consider is the Tom Ford CLAUDIA-02 sunglasses. These sunglasses combine high-quality craftsmanship and materials with a stylish, timeless design.
For those looking for sunglasses that make a statement, the Tom Ford brand is recognized worldwide for luxury and sophistication. The CLAUDIA-02 model features an oversized square shape that will beautifully frame any face shape. The grey gradient lens not only provides 100% UV protection but also reduces glare while enhancing color and contrast. Whether you're driving, lounging by the pool, or walking city streets, these sunglasses will protect your eyes while keeping you looking fashionable.
Below I'll discuss the standout features of the Tom Ford CLAUDIA-02 and why they make a great choice for your eyewear needs this season. After reviewing the pros, cons, recommendations, and frequently asked questions, you'll have all the information you need to decide if these sunglasses are the right fit for you.
Tom Ford CLAUDIA-02 Sunglasses Review: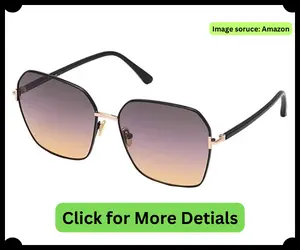 Standout features of Tom Ford CLAUDIA:
Here are 7 standout features that make the Tom Ford CLAUDIA-02 sunglasses a great choice:
1. Stylish oversized square frame design:
The square shape flatters all face shapes and creates a dramatic, fashion-forward look. The oversized 62mm lenses and wide temples also help make a bold style statement.
2. Gray gradient lens:
This lens offers both style and function. The darker gray at the top shades your eyes from overhead sunlight while the lighter gray at the bottom enhances contrast and depth perception. The gradient look is also very on-trend.
3. 100% UV protection:
With 100% UV protection, you can rest assured your eyes are shielded from harmful ultraviolet rays that can cause long-term damage. Enjoy the summer sun without worry.
4. Scratch/impact-resistant:
Made with durable, high-quality materials, these sunglasses can withstand everyday wear and tear. The lenses are scratch-resistant so they will maintain their clarity.
5. Lightweight comfort:
Weighing just 1.05 ounces, these sunglasses offer lightweight comfort. You'll barely notice you're wearing them. The adjustable nose pads also prevent slipping.
6. Tom Ford style and quality:
With its status as a top luxury brand, you know you're getting superb craftsmanship and style from Tom Ford. These sunglasses exhibit attention to detail.
7. Carrying case included:
The sunglasses come with a sturdy protective case so you can keep them safe and prevent scratches when not wearing them.
Two unique features of the Tom Ford CLAUDIA-02 sunglasses are the combination of oversized square shape with a gradient gray lens and the lightweight comfort they provide.
The square shape creates a dramatic, fashion-forward look that flatters, while the gradient gray lens not only protects eyes but also enhances visual clarity and depth perception. Together, these features give the sunglasses a truly distinctive look and functionality.
Additionally, the sunglasses are surprisingly lightweight at just 1.05 ounces, so you get stylish protection without the hassle and discomfort of heavy eyewear. These features make the CLAUDIA-02 stand out from other sunglass styles.
Pros:
Oversized stylish square frame with gradient lens provides fashion-forward look
100% UV protection shields eyes from sun damage
Lightweight and comfortable to wear
Scratch/impact-resistant for durability
Carrying case included to protect sunglasses
Tom Ford brand reputation for luxury quality
Cons:
Expensive price point
Lenses are non-polarized (may not cut glare as well)
Large frame may not fit smaller faces well
Only available in black/gray color option
Recommendation:
I would recommend the Tom Ford CLAUDIA-02 sunglasses for those looking for a bold, stylish statement look this summer.
The oversized square frames with gradient lenses will beautifully flatter and frame most face shapes.
If you want sleek, luxury sunglasses that provide complete sun protection while turning heads, these are an excellent choice.
They are ideal for fashion-forward women and men looking to add some drama to their summer style.
Just keep in mind these run large and those with smaller faces may want to test the fit in-store before purchasing.
FAQs:
Are the Tom Ford CLAUDIA-02 sunglasses polarized?
No, the lenses on the CLAUDIA-02 sunglasses are not polarized. However, the gray gradient lens still provides plenty of glare reduction by gradually limiting light transmission from top to bottom. For most conditions, the lenses should sufficiently cut glare even though they are not polarized.
What size frame is best for a round face shape?
Those with a round face shape will look great in the oversized square Tom Ford CLAUDIA-02 frame. The angular lines of the square shape help counterbalance the soft roundness of the face. This contrast creates stronger facial definition. Be sure to pick a frame width that is at least as wide as the broadest part of your face.
Do the Tom Ford sunglasses come with a warranty?
Yes, the Tom Ford CLAUDIA-02 sunglasses come with a 2-year manufacturer's warranty. This warranty covers defects in materials and craftsmanship. Normal wear and tear is not covered, but any manufacturing defects will be repaired or the sunglasses will be replaced under the warranty.
What is the difference between gray and brown gradient lenses?
A: Gray gradient lenses like those on the CLAUDIA-02 filter out a lot of bright light while enhancing colors and depth perception. They are ideal for very sunny conditions. Brown gradients also filter brightness but they tend to distort colors less while enhancing contrast. Browns are better for low to medium light conditions.
Conclusion:
In summary, the Tom Ford CLAUDIA-02 sunglasses are a great option for those seeking a stylish, high-end pair of sunglasses that make a bold fashion statement. The oversized square frame creates a dramatic, contemporary look, while the gradient gray lenses not only protect your eyes but also enhance clarity and reduce glare.
Key features like 100% UV protection, scratch/impact resistance, and lightweight materials ensure these sunglasses can withstand daily use while providing exceptional comfort. Tom Ford's reputation for luxury and quality craftsmanship means you get standout style combined with long-lasting performance.
While the Tom Ford name means these sunglasses command a higher price point, the look, quality, and functionality make them worth the investment for the right customer. These sunglasses are ideal for fashionistas, luxury seekers, and those wanting to make a distinctive style statement this summer.
Overall, if you are willing to splurge for designer eyewear and love the oversized square look and gray gradient lens styling of the CLAUDIA-02, you can feel confident these sunglasses will serve you for seasons to come. Just be mindful of the larger sizing and test the fit if you have a smaller face. With proper care and storage, your Tom Ford sunglasses should provide superior eye protection and enviable style for years of enjoyment.

David Doyle is a respected authority in the sphere of gaming and reading glasses. He is renowned for his comprehensive reviews that not only evaluate the products but also provide valuable information to consumers.
Doyle's deep knowledge of lens technology, frame design, and ergonomics, combined with his gaming experience, has enabled him to provide informative and reliable insights to a wide array of readers.
Through his writings, Doyle has helped countless readers to choose glasses that enhance their gaming and reading experiences while ensuring maximum comfort and eye health.