Aviator-style sunglasses in particular have remained a staple fashion accessory for decades, combining both function and style. The Persol PO0714SM Steve McQueen Aviator Sunglasses are a premium pair of aviators inspired by the ones worn by Steve McQueen himself.
For those looking for a high-end pair of aviators, the PO0714SM model offers top-notch quality and craftsmanship. Made in Italy, these sunglasses feature acetate frames and glass lenses, providing exceptional durability and optical clarity. The stylish pilot shape with the signature keyhole bridge gives these aviators a retro-cool look. The polarized lenses ensure optimal glare reduction and enhanced visual comfort in bright sunny conditions.
With premium Italian craftsmanship and materials, innovative polarized lenses, a foldable design, and classic aviator styling, the Persol PO0714SM Steve McQueen Aviators provide the complete package. They enable you to channel your inner Hollywood legend while protecting your eyes in sophistication.
If you appreciate both form and function in your eyewear, keep reading to learn why these aviators could be the perfect choice.
Persol PO0714SM Steve McQueen Aviator Sunglasses Review
The Persol PO0714SM Steve McQueen Aviator Sunglasses have several standout features that make them a top-tier pair of aviators: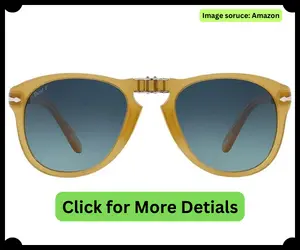 1. Premium Italian Craftsmanship:
Handmade in Italy with great attention to detail, these sunglasses feature quality acetate frames and glass lenses. The 10 additional manufacturing steps compared to standard Persol models demonstrate the meticulous Italian craftsmanship.
2. Polarized Lenses:
The polarized crystal lenses effectively reduce glare and enhance clarity of vision. By filtering out reflected light, they minimize eye strain in bright sunny conditions.
3. Acetate Frames:
The acetate frame material provides exceptional durability while also being lightweight and comfortable to wear. Acetate also allows for transparency and rich color tones in the frames.
4. Foldable Design:
The foldable arm design allows the glasses to neatly fold up when not in use. This makes them highly portable and protects the frames and lenses while on the go.
5. UV Protection Coating:
The lenses have a UV protection coating that filters 100% of UVA/UVB rays to shield your eyes from harmful ultraviolet radiation.
6. Steve McQueen Style:
Inspired by the original Persol 714 pilots worn by Steve McQueen, these iconic sunglasses epitomize classic Hollywood cool.
7. Versatile Styling:
The timeless aviator silhouette complements various face shapes and styles, from casual to formalwear. The look is gender-neutral.
Unique Features
Two unique features of the Persol PO0714SM Aviators are the foldable arm design and the specially branded Steve McQueen limited edition style.
The foldable functionality adds portability and protects the frames in a compact case.
The Steve McQueen branding gives wearers a iconic retro style in a sunglass inspired by the King of Cool himself. These details give the sunglasses unique character beyond typical aviators.
Pros:
Excellent protection from sun glare with polarized lenses
Durable and lightweight acetate frames
Crystal clear optics with glass lenses
Sophisticated aviator silhouette flatters most faces
Foldable arms for a compact and portable design
Premium Italian craftsmanship for quality construction
Vintage appeal with Steve McQueen history and style
Protective case included to prevent scratches
Cons:
Expensive compared to generic aviator styles
Some may find the bridge too narrow
Non-polarized lens options not available
Limited edition model could sell out quickly
Case may be too bulky for some to carry conveniently
Recommendation of Persol PO0714SM Steve McQueen Aviator Sunglasses:
The Persol PO0714SM Steve McQueen Aviator Sunglasses are highly recommended for those looking for a well-crafted pair of fashionable aviators.
They are ideal for both men and women with their classic unisex styling.
Given the premium materials and polarized lenses, these sunglasses are worth the investment for eye protection and performance.
Fans of Steve McQueen's iconic style will appreciate these as a collectible. Both fashion-forward and functional, the PO0714SM aviators make a timeless addition to any eyewear wardrobe.
FAQs:
Are the Persol PO0714SM Steve McQueen sunglasses unisex?
Yes, the Persol PO0714SM aviator style features a classic unisex design suitable for both men and women. The iconic pilot shape flatters most face shapes.
What are the lens options for these sunglasses?
The Steve McQueen edition PO0714SM model only comes with grey polarized lenses. Non-polarized lenses are not available for this limited edition.
Are replacement lenses available?
Unfortunately, the polarized crystal lenses designed specially for this model cannot be replaced with aftermarket lenses. However, Persol can provide factory replacement lenses if needed.
What is included with the sunglasses?
The sunglasses come complete with the folding acetate frames, polarized grey lenses, Steve McQueen branding, and a protective leather case. All original case contents are included.
Can the foldable arms come loose over time?
While the folding functionality could potentially loosen over years of wear, the glasses are designed to last. Proper care and maintenance will help prevent loosening of the arm joints. Seek adjustments or repairs for any issues.
Conclusion:
The Persol PO0714SM Steve McQueen Aviator Sunglasses provide an excellent blend of stylish design, high-end materials, polarized lens technology, and a limited edition retro look. Made in Italy with premium acetate and glass, they offer durable, lightweight, and comfortable frames with crystal clear optics. The polarized lenses reduce eye fatigue by cutting glare, while the UV protection coating shields your eyes from the sun's harmful rays.
Beyond the quality and performance, these aviators make a fashion statement with the iconic pilot silhouette that has graced high-profile figures like Steve McQueen. The foldable functionality adds portability and protection on the go. For those seeking designer aviators with sophistication, quality craftsmanship, and a vintage edge, the Persol PO0714SM sunglasses deliver impeccable vision and style. They provide value for money that lasts if properly maintained.
To summarize, if you appreciate advanced lens technology, enduring comfortable frames, and wish to emulate Steve McQueen's efforless cool, the PO0714SM aviators deserve your consideration. Both a collectible and a functional accessory, they enable you to make a lasting impression while protecting your vision.
Read More Reviews:

David Doyle is a respected authority in the sphere of gaming and reading glasses. He is renowned for his comprehensive reviews that not only evaluate the products but also provide valuable information to consumers.
Doyle's deep knowledge of lens technology, frame design, and ergonomics, combined with his gaming experience, has enabled him to provide informative and reliable insights to a wide array of readers.
Through his writings, Doyle has helped countless readers to choose glasses that enhance their gaming and reading experiences while ensuring maximum comfort and eye health.