Maui Jim Violet Lake sunglasses, a leading sunglasses brand, combines premium lenses and stylish designs beautifully.
Read this review to learn why the Maui Jim Violet Lake sunglasses are a great choice for women looking for fashionable eyewear.
Maui Jim Violet Lake Sunglasses Review – Pros, Cons – Features
Long exposure to the sun's glaring rays can cause various eye problems like cataracts, macular degeneration, and growth on the eye.
Luckily, women today are more aware of the importance of UV protection. However, they also want sunglasses that align with their personal style.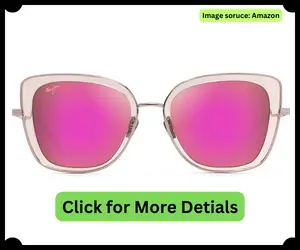 This is the pain point the Maui Jim Violet Lake model aims to solve. It offers 100% UV protection along with a chic, feminine look.
As you will see in this review, these shades check all the boxes in terms of features, style, and vision protection.
7 Best Features of Maui Jim Violet Lake Sunglasses
Here are the top features that make the Maui Jim Violet Lake sunglasses a worthwhile investment:
1. Flattering Titanium Frame
The lightweight titanium frame comes in a flattering angular cat-eye shape. It has acetate inserts on the temples for a mixed-material look. The rose gold and trans pink color scheme gives these shades a stylish, feminine vibe. The acetate temple tips also ensure a comfortable and personalized fit.
2. Advanced PolarizedPlus2 Lens Technology
Maui Jim's proprietary PolarizedPlus2 technology blocks 100% of harmful UVA/UVB rays and glare. This allows you to see colors in their true, vivid shade. So you get crisp, clear vision along with protection.
3. Maui Sunrise Mirror Lens Coating
The pink Maui Sunrise mirror coating on the lens looks beautiful and also enhances colors. It provides a stylish new aesthetic while reducing glare.
4. Scratch and Impact Resistant
The durable, lightweight frame and scratch-resistant polarized composite lens offer long-lasting performance. This ensures good ROI as you can wear your Maui Jims for years.
5. Protects from Harmful Blue Light
The polarized lenses also block blue light emitted from digital devices. This protects your eyes from eye strain.
6. Optimized Peripheral Vision
The angled shape and wide lenses give you an optimized and expanded peripheral view. This enhances visual clarity from all angles.
7. Comes with Protective Case and Cloth
Every pair comes with a cleaning cloth and padded sunglasses case. So you can keep your shades clean, scratch-free, and safe.
Unique Features
1. Fashionable Design
The cat-eye shape and pink mirror lens give these shades a feminine aesthetic. The mixed-materials frame also makes it a fashion-forward choice.
2. Advanced Eye Protection
The PolarizedPlus2 technology offers industry-leading eye protection. It blocks 100% UVA/UVB rays and reduces glare for visual comfort.
Pros
100% UV protection
Polarized lens blocks glare
Stylish cat-eye shape flatters most face shapes
Lightweight and durable titanium frame
Maui Sunrise pink lens coating looks beautiful
Protects eyes from sun and blue light
Enhances color and visual clarity
Padded case keeps sunglasses safe
Backed by Maui Jim's reliable quality
Cons
Lens can be too dark for low light use
Expensive compared to regular sunglasses
Mirrored lens not ideal for driving
Recommendations
The Maui Jim Violet Lake sunglasses are ideal for:
Women looking for a fashionable yet protective pair of shades. The cat-eye shape and pink mirror lens create a feminine aesthetic.
Those who want complete UV and glare protection. The advanced polarization blocks 100% of harmful rays.
People needing enhanced visual clarity and colors. The PolarizedPlus2 technology filters light optimally.
Outdoor enthusiasts who need durable performance shades. The titanium frame is lightweight yet resilient.
FAQs
How is the fit?
The cat-eye shape and adjustable acetate tips allow you to get a secure and personalized fit. The oval lenses also suit most face shapes.
Can the lenses be changed?
Yes, you can get the Maui Jim sunglasses fitted with prescription lenses at an additional cost. Visit a Maui Jim store for more details.
What is the difference between polarized and non-polarized lenses?
Polarized lenses block intense reflected glare. This reduces eye strain and fatigue, giving you a sharper vision. Non-polarized lenses don't offer glare protection.
Are these sunglasses good for driving?
The mirrored coating can distort images and is not ideal for driving. For driving, go with non-mirrored Maui Jim lenses that offer a clearer vision.
Can I wear these for sports like golf and fishing?
Yes, the lightweight frame and glare-cutting polarized lenses make these sunglasses suitable for sports like golf, fishing, running, and hiking.
Conclusion
To conclude, the Maui Jim Violet Lake sunglasses are a stylish choice for women seeking complete UVA/UVB protection and visual comfort. The advanced lens technology and durable frame make them ideal for everyday use and outdoor activities. While the price is on the higher side, the long-lasting quality ensures you get your money's worth. For feminine cat-eye shades with unbeatable polarization, the Maui Jim Violet Lake is a top recommendation. Invest in these sunglasses to flaunt your style while keeping your eyes healthy and relaxed.
Read More Reviews:

David Doyle is a respected authority in the sphere of gaming and reading glasses. He is renowned for his comprehensive reviews that not only evaluate the products but also provide valuable information to consumers.
Doyle's deep knowledge of lens technology, frame design, and ergonomics, combined with his gaming experience, has enabled him to provide informative and reliable insights to a wide array of readers.
Through his writings, Doyle has helped countless readers to choose glasses that enhance their gaming and reading experiences while ensuring maximum comfort and eye health.