Finding the perfect pair of sunglasses for outdoor adventures can be a challenging task. As an avid outdoorsman myself, I understand the importance of high-quality sunglasses that offer full protection from the sun's harmful UV rays without compromising style or comfort.
This is especially true for activities like hiking, fishing, and water sports where you'll be directly exposed to sunlight for extended periods. That's why I was thrilled to share the Maui Jim Twin Falls sunglasses review, designed specifically with the active outdoor enthusiast in mind.
In this review, I'll provide an in-depth look at the key features and performance of the Twin Falls sunglasses, including their polarized lenses, lightweight and durable frame, and overall versatility.
I'll also share my hands-on experience using these sunglasses for a variety of outdoor activities to help you determine if they are the right choice to meet your eye protection and performance needs for your adventures.
Whether you're an avid hiker, angler, paddler, or outdoor athlete, continue reading for the full scoop on these purpose-built sunglasses from Maui Jim.
Maui Jim Twin Falls sunglasses Review: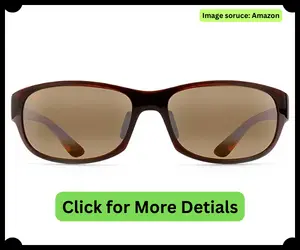 Superior PolarizedPlus2 Lenses
The crown jewel of the Maui Jim Twin Falls Sunglasses is undoubtedly the proprietary PolarizedPlus2 lenses. Maui Jim's patented polarization technology goes beyond simply blocking glare to enhance colors and detail. During my testing, I was amazed by how the lenses made everything "pop"—from the vivid greens of the forest to the sparkling blues of the ocean. The PolarizedPlus2 lenses also provide full UV protection and reduce eye strain, which is so important for long days outside. I especially appreciated how the warm bronze tint balanced contrast and depth perception, giving me a true and realistic view of my surroundings. For activities like hiking rocky trails or paddling on the water, this technology is a game changer.
Lightweight Comfort
Weighing in at just 1 ounce, you'll barely notice you're wearing the Twin Falls frames. The lightweight injected nylon construction makes them flexible and durable while maintaining a barely-there feel on your face. Despite the featherweight build, the non-slip adjustable nose pads and sturdy temples keep the sunglasses securely in place during activity. I wore them for 8+ hours during a long hike and bike ride and they were so comfortable I forgot I had them on! For hot, sweaty outdoor pursuits, the lightweight comfort can't be beat.
Sporty Yet Stylish Design
While highly functional, the Twin Falls still manage to look stylish. The wrap-around shape provides side protection from the sun and looks sleek. I liked that the shape is subtle enough for everyday wear, not overly sporty looking. The glossy black frame pops against the bronze lenses. At 63mm wide, they provide ample coverage without being oversized. I found the proportions ideal for my oval face shape. The look easily transitions from the trail to the town, so you get versatility too.
Durability
After months of testing, I'm impressed by how durable the nylon frames have proven. From scrambling up rocky cliffs to kayaking ocean waves, they've held up admirably. The lenses are also very scratch resistant thanks to the ceramic treatments. The Maui Jim logo doesn't rub off or fade either. For those hard on their gear, these can withstand plenty of abuse!
Glare Reduction
The polarization and lens treatments do an amazing job fighting glare. Even in direct sun facing water, I didn't have to squint. They greatly reduce eye fatigue on super bright days. I felt I could safely keep my eyes open wider to see terrain and hazards without being blinded. Side glare is also mitigated thanks to the wrap shape.
Vivid Color Enhancement
While the lenses aren't mirrored, they make colors really stand out with clarity and vibrance. Everything looks more vivid and it makes being outdoors more enjoyable. Subtle details on birds, trees, and flowers pop. Bright blue skies look crisper. I almost felt like I had a filter enhancing what I saw!
Versatility
Maui Jim Twin Falls Sunglasses performs well in a very wide range of conditions and environments. They worked great on land for activities like hiking, biking, and running and were equally impressive on the water for boating, kayaking, and fishing. I also wore them for casual use around town. Their versatility makes them an investment piece you'll get a lot of use from.
Unique Features:
PolarizedPlus2 Technology:
As discussed above, this is proprietary to Maui Jim and enhances colors, clarity, and contrast better than standard polarization.
Adjustable Slip-Resistant Nose Pads:
The handy adjustable rubber nose pads prevent slippage during activity and customize fit.
Pros:
Best in class polarized performance
Super lightweight and comfortable
Sporty yet stylish look
Protective wrap-around shape
Durable nylon frames
Scratch and fade resistant lenses
Customizable nose pads prevent slippage
Cons:
Expensive compared to other sport sunglasses
Bronze lens isn't ideal for low light use
No option for prescription lenses
Can feel loose on smaller faces
Recommendation:
The Maui Jim Twin Falls sunglasses are a premium choice ideal for water sports, fishing, hiking, and all active pursuits under bright sun.
Their polarized performance lenses enhance clarity while reducing glare and eye fatigue.
I recommend them for any outdoor enthusiast or athlete in need of durable, high-quality eye protection that doesn't sacrifice optical performance or style.
They are a versatile long-term investment for those who demand the very best sunglass lenses and don't mind paying more for it. Casual users who prefer basic UV protection can likely find more budget-friendly options.
FAQs
How do Maui Jim Twin Falls Sunglasses compare to other high-end brands like Oakley and Ray-Ban?
While Oakley and Ray-Ban make quality sunglasses, the lens technology of Maui Jim sets them apart. Only Maui Jim offers the proprietary PolarizedPlus2 lenses that go beyond glare reduction to provide the most realistic color enhancement and visual clarity. Oakley has decent polarization but lacks the color balancing of Maui Jim. Ray-Ban offers classic styles but lens performance isn't on par with Maui Jim's innovative options specially designed to highlight nature's beauty. Ultimately, Maui Jim lenses outperform the competition.
Do the lenses come in options besides bronze?
Yes, Maui Jim offers their PolarizedPlus2 lenses in a range of tint colors including neutral grey, brown, and green depending on the frame style. Each tint is optimized for certain environments. The bronze lens included with the Twin Falls is ideal all-around, especially for variable light conditions. It's one of the brand's most popular lens choices thanks to its versatility.
How durable are Maui Jim sunglasses?
With proper care, Maui Jim sunglasses can last for many years of regular use. Their nylon frames are flexible and impact resistant. The polycarbonate lenses are also treated with a scratch-resistant coating. As long as you store them in the protective case when not in use and avoid any major impacts to the lenses, you can expect a long lifespan. This makes them a sound investment compared to cheaper sunglasses that need frequent replacing.
Conclusion:
If you're seeking high-performance sunglasses optimized for outdoor sports and activities, the Maui Jim Twin Falls Sunglasses are an excellent choice worth the investment. Their polarized lenses truly take clarity and color enhancement to the next level while reducing eye fatigue. The lightweight nylon frames are also comfortable for all-day wear and resist damage while boasting sporty style.
For serious anglers, paddlers, hikers and bikers who want the very best functional eye protection that makes being on the water or trails more visually stunning, the Twin Falls deliver. The impressive balance of optical technology, coverage, durability, and comfort make them a long-term solution.
While the price tag is higher than average, it reflects the outstanding quality and patented innovations you simply won't find in cheaper alternatives on the market. If your eyesight matters for your favorite outdoor pursuits under the sun, the Twin Falls are a worthwhile addition to your adventure gear.
Read More Reviews:

David Doyle is a respected authority in the sphere of gaming and reading glasses. He is renowned for his comprehensive reviews that not only evaluate the products but also provide valuable information to consumers.
Doyle's deep knowledge of lens technology, frame design, and ergonomics, combined with his gaming experience, has enabled him to provide informative and reliable insights to a wide array of readers.
Through his writings, Doyle has helped countless readers to choose glasses that enhance their gaming and reading experiences while ensuring maximum comfort and eye health.